17 Mar

Give Ozarks Day
When: May 9, 2017
Location: Online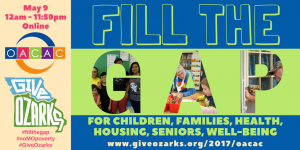 Give Ozarks is 24 hour, online fundraising event for nonprofit partners of the Community Foundation of the Ozarks and we are pleased to be participating again this year!  You'll find our page at www.giveozarks.org/2017/oacac.
Your gift on Give Ozarks Day helps FILL THE GAP for the people we serve, providing assistance when no other funding is available.
Healthy Smiles and Literacy Programs for Children
Affordable Reproductive Healthcare
Critical Home Repairs
Fair Housing Rights Education
Reliable Transportation for Working People
Classes for Self-Improvement and Self-Sufficiency…and more
Poverty across the Ozarks is high and the needs of our friends and neighbors are great.  The ten counties we serve average 16.45% poverty, higher than the state and national levels of 14.49% and 14.58% respectively.
Ozarks Area Community Action Corporation (OACAC) is proud to be one of over 1,000 Community Action Agencies across the nation, working alongside individuals and families who are dedicated to moving out of poverty.  May is Community Action Month, and therefore, your donation to OACAC on Give Ozarks Day is also an action of solidarity for the people impacted by poverty and served by one of the more than 1,000 Community Action Agencies across the nation.  Fantastic!
Your support makes a big difference, thank you.
We'd like to thank our friend and board member, Cy Bortner, for initiating the CYber Challenge and Match.  Cy challenges all OACAC board members to give a gift on Give Ozarks Day, which he will match up to $250. 
Your gift ANYTIME during the 24 hour period is appreciated, but we'd love for you to give during these target times, which help increase our odds at winning prize money:  5-6am (Early Birds Unite!), at 4:17pm on the nose, and between 9-10pm.