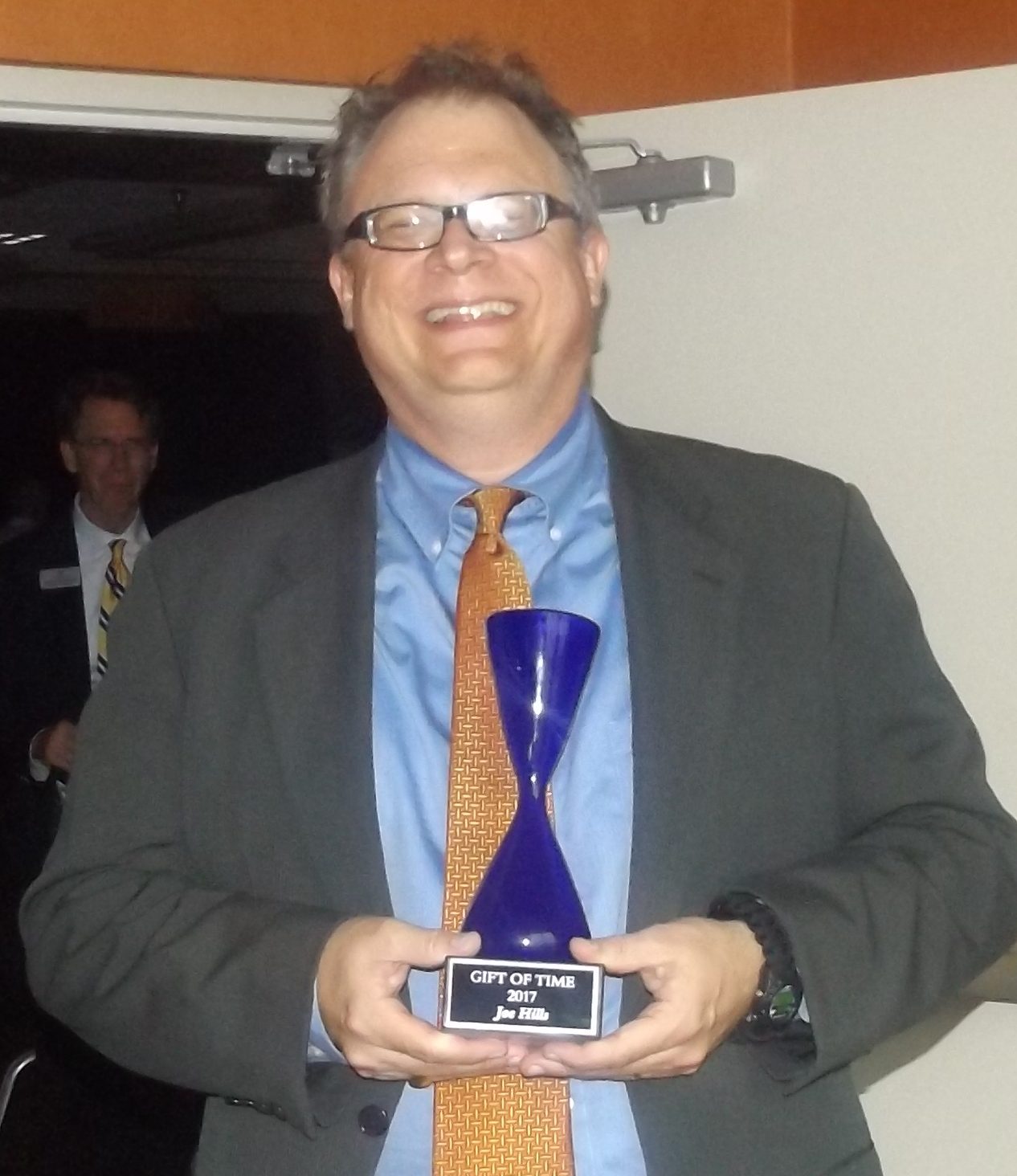 26 Jun

Joe Hills, 2017 Gift of Time Recipient

Who, in our community, would creatively dedicate time working on dropout prevention with area elementary youth? Who, in our community, would devote their effort to educating people in poverty about their legal rights as a tenant, thereby preventing countless evictions and episodes of homelessness?  Who cares for all in our community and wants success for every person, regardless of age or economic status?  For more than nine years, this hero has been Joe Hills of Legal Services of Southern Missouri in his partnership with Ozarks Area Community Action Corporation (OACAC).

OACAC administers the Vocational Opportunities Inspiring Children in Elementary (VOICE) project throughout the community.  OACAC partners with Springfield Public Schools in challenging elementary-aged youth to increase their vocational aspirations. While VOICE does not look like a traditional dropout prevention program, it does aim to reduce poverty through a proactive approach.  Area professionals are called upon to contribute their time to introduce their career and provide an activity for the children to create a mind-body connection.  During the 2016-2017 school year, Mr. Hills participated in 20 VOICE sessions, serving area elementary youth.  The students love his interactive approach.  Who else would be able to educate children on becoming a lawyer and have them walk away giggling and excited about this prospect for their lives?  Mr. Hills has developed a curriculum for this project based on the fairy tale, "Goldilocks and the Three Bears."  He presents his profession through this story and under the auspices of a legal case.  Mr. Hills successfully conveys his message to children from kindergarten through sixth grade. Research has shown that exposure to career awareness increases school achievement and reduces dropout rates.  His direct volunteerism assisted 458 school children this school year alone.

Mr. Hills is a strong advocate for people living in poverty in our community.  For many years, Mr. Hills has volunteered his time teaching a Landlord/Tenant Rights class for low-income individuals served by OACAC.  In this class, he provides legal education on what a tenant can expect from a landlord.  Tenants are given information regarding their responsibilities as well.  Mr. Hills empathetically, but directly, answers any and all questions participants bring to the class.  He often has been found staying later than his scheduled time, to make sure all questions are answered.  This intervention has helped countless families avoid eviction and episodes of homelessness.

Mr. Hills is an active volunteer with VOICE and Landlord/Tenant Rights classes with several of the nine other counties OACAC serves in addition to Greene County.  With his tireless and dedicated support, countless individuals have been positively impacted.  Children are increasing their vocational aspirations and academic performance.  Many who are disenfranchised are learning their rights and responsibilities and maintaining housing.  The tangible work Mr. Hills brings to OACAC is incredible. The heart, attitude, and commitment cannot be replicated, and we thank him for the impact he has made in our corner of the world.

It is with our sincere appreciation and happiness we congratulate Mr. Joe Hills on his nomination and receipt of the 2017 Gift of Time award.

To read more about the Gift of Time award recipients, link to the 6/24/17 Springfield News-Leader article here.