12 Aug

Ruby Lea Payne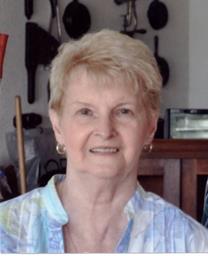 Ruby Lea (Woodall) Payne was born April 20th, 1935 in Macks Creek, MO, and passed away on October 7, 2013 after a six year battle with cancer.
Ruby was the Daughter of Clarence Woodall and Eva (Wheeler) Woodall Webster who preceded her in death.  Ruby was also preceded in death by her siblings Deloris Woodall, Oral Woodall, Lawrence Woodall, Mildred (Woodall) Campbell, Clyde Woodall, and her husband of 59 years and 8 months, Jesse "Jack" Payne, who she married on January 2, 1954.  They lived their vows for "better or worse."
She is survived by her three children; Jacky Payne and wife Elana, of Lebanon, MO, Gwen Formy-Duval and husband Brent, of Urbana, MO, and Mike Payne and wife Sharon, of Urbana, MO; seven granddaughters, Danielle Payne, Rachael Powell, Kelli Drane, Megan Payne, Alyson Payne, Angela Jacobs and Meleah Johnson; 3 grandsons, Clint Kelley, Seth Kelley and Brian Formy-Duval; and one great grandson Desmond Payne.  She is also survived by numerous step grand and great grandchildren, several cousins, and many friends and neighbors.
Ruby was raised at Macks Creek and attended school until Sixth grade when she moved to Fort Leonard Wood, MO with her mother and attended school at Waynesville then later moved to Buffalo, MO where she graduated high school.
Ruby retired as Supervisor of the O.A.C.A.C. office in Bolivar, Missouri after 28 years.  She devoted most of her life to helping many families with needs such as clothing, heating, shelter, medical expenses and even making sure people had enough gas money to get to doctor appointments.  Ruby also organized many benefits to raise extra money for the Ozarks Area Community Action Corp. to help ALL those in need in Polk County.  She was so successful at helping others that she had an award named after her "The Ruby Payne Award" that is presented each year to a deserving supervisor from other O.A.C.A.C. offices as dedicated to those in need as Ruby.
Ruby enjoyed cooking for her family, reading and listening to old time gospel and country music, and watching basketball games and volleyball games that her kids and grandkids were coaching or playing in.  Ruby was a loving mother and wife who devoted herself to her family and grandchildren, whom she loved with all her heart.
Visitation is scheduled for Wednesday October 9th, 6 to 8 p.m. at the Urbana Cantlon Otterness Funeral Home.  Graveside services will be held Thursday October 10th at 10:30 a.m. at the Hopewell Cemetery on AC Hwy, Urbana, Missouri, with Matt Flanders officiating. Honorary escorts will be James Ashworth, Roy Mackey, Ray Kyllonen, Kelly MacAtee, Jimmy Greer, James Horn, Johnny Moore, Frankie Miller, Claudie Ashworth, Donnie Kinslow, Werner Wilson, Rod Hooper, Roy Potter, Mike Corry, and Billy Phillips.  In lieu of flowers, memorials may be made to the Ruby Payne Memorial Fund and left at the Funeral Home or mailed to P.O. Box 993, Buffalo, Missouri 65622.