20 Nov

Share The Light

Did you know thousands of families lose their homes every year because they can't pay their utilities? It's one of the leading causes of homelessness in America. Help Alice 95.5, City Utilities and OACAC "Share The Light" and help keep families in their homes this Holiday Season!

On Saturday, December 16, Alice 95.5 and City Utilities will be selling 2-packs of Christmas Light bulbs (one red, one green) in front of the Alice 95.5 studios at Sunshine & Glenstone from 7am to 7pm. For a $10 donation, you can take the light bulbs home and 100% percent of your donation goes into Project Share, a fund dispersed by OACAC to help struggling CU customers pay their utility bills.

So please join us, get your bulbs and help keep kids, elderly, families, and people of all ages in Springfield safe and warm inside their homes! Can't make it to the event on Dec. 16 but still want to support the Share the Light campaign? Donate here.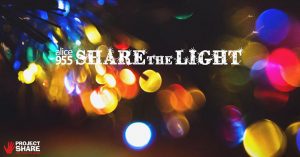 Brought to you by City Utilities of Springfield, MO and [email protected].