12 Sep

Welcome Our New Foster Grandparent Program Director

September 12, 2022: Today we welcome Melanie Bond Willenbrock as our new Foster Grandparent Program Director.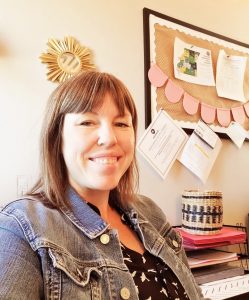 Hello, my name is Melanie and I am so excited for this new journey as the Program Director of the OACAC Foster Grandparent Program! A little about me: I am a research and data enthusiast, I love spending time with my family, and I have many hobbies. Some of these hobbies include exploring the great outdoors, rock collecting, music collecting, painting, and crafting!
I graduated from Missouri State University in 2011, earning a Bachelor of Science in Geology. My professional career first began as a Geological Technician for an Oil & Gas Company and then later, a GIS Technician for a Utility company. A large portion of my responsibilities for both of these positions involved creating digital maps, first for well installation and drilling sites, and then for underground utility structures. However, in 2017, I transitioned from the natural sciences field to the human services field and I was accepted into the Early Childhood and Family Studies (ECFS) program at Missouri State University as a graduate candidate.
The ECFS graduate program focused largely on social issues surrounding family with an emphasis on advocacy, diversity, and early childhood education. Additionally, the program was based heavily in theory and research. Specifically, my research focused on the mental and physical benefits of outdoor play during the early childhood years; as well as, the relationship between student access to outdoor play (aka recess) versus student demographics within the public school system.
I am a proud recipient of the 2021 Frank Einhellig Graduate Interdisciplinary Award for Outstanding Presentation for my graduate research. Furthermore, I have had a variety of working experience both within the classroom setting and at OACAC.  I am grateful for all of these experiences, as they have offered so much perspective, thus preparing me for this next chapter. I look forward to using my knowledge, skills, and empathy to make a positive impact in the lives of seniors and children in our community!